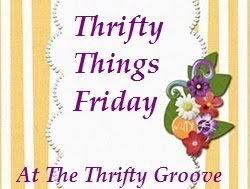 I'm also going to be joining Rhoda this week at
Southern Hospitality
I cannot believe I haven't posted since the first of June. Then again I haven't time to go to any more garage sales so far this summer. I'm hoping things slow down for us soon and we can start taking the time to go again.
Truthfully, we had been going to the sales in DH's truck which was only a single cab. Two adults and four kids crammed into a truck that small and it being as hot as it has been lately is one of the reasons we backed off of going to the sales. Problem solved - DH now has an extended cab truck with a nice roomy back seat for the kids to ride in. However, that brings up a new problem in that it doesn't have an air conditioner so until he gets it repaired we won't be going in his new truck to any sales.
I did notice in one weekly newspaper that there was an ad announcing that DH's cousin was having one of her monthly storage building garage sales. As I've mentioned in previous posts she goes to storage building auctions like you see on the show "Storage Wars" and then sells what she finds at garage sales. Always finding great stuff at her sales the kids and I loaded up in the car to see what we could find. I had exactly $18 in my pocket and spent every dime of it on these great things.
This table was my most expensive purchase of the day at $16 - but being a Broyhill table I felt it was worth every dime I paid for it. It's very solid and hopefully will last us for years. It's going to get a white paint job and join my other nightstand in the bedroom. Now I just need to find a couple more dressers and a bedframe and my bedroom remodel will be complete.
This pan was $1 and looked to be brand new.
This great top wasn't marked so she let me have it for .25 :)
I paid .50 for this great magazine. I'm a sucker for any type of home improvement or home decor books or magazines I find at garage sales.
Hopefully, I will be posting pictures of my little table all painted and pretty soon but with 100 degree weather in our area I've been putting off taking it outside and painting it just yet.
Until next time . . .
ThriftyAnnabella