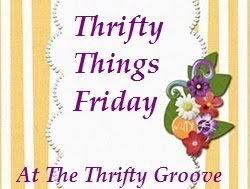 I'm also going to be joining Rhoda this week at
Southern Hospitality
This weekend my DH finally got a Saturday off to go into the city with me to hit the garage sales.
Our first stop was at the many Estate Sales being hosted in our area this weekend. I found a beautiful set of Wedgewood China but couldn't bring myself to cough up the $200 asking price. The only thing I did find at the Estate Sales was this beautiful angel for $25. She stands over 2 feet tall. The lady had three of them sitting on her back patio. I decided one would be enough and snatched her up.
Next on our list was to hit the many garage sales we found listed in the paper. DH took the kids and went shopping with them at one sale and came back with a toy organizer and several toys. I also found several pairs of pants for my DS which is great since he is growing so much. At one sale I came across this light up schoolhouse for $2 which will go great with our Christmas village this year.
At our last stop of the day DH found several sets of Craftsman tools for $5 to $10 a set. He was so happy he was floating on Cloud 9 the rest of the day. While he was packing up all of his tools I happened to see a sign that said table set $20. Curiosity got the best of me so I decided to check it out and this ended up being my final purchase of the day.
Only one of the chairs has gotten rusty and broke in a couple of places but I figured the table with three chairs for $20 was still a great price and a great addition to our back patio.
I love this picture because my little Fred is standing back there looking at me probably wondering what on Earth I'm taking a picture of. He's such a cutie. :)
Until next time . . .
ThriftyAnnabella