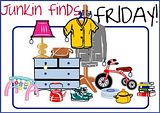 Has it really been that long since I posted? Life has been kind of crazy lately but is starting to get back to normal. Another fire hit close to home again this time setting the woods and field behind our house on fire. This was two days after the last fire I blogged about. Thankfully our house has finally aired out and doesn't smell like smoke anymore.
I managed to snap a photo of a couple of the fire trucks. All of the others were back behind the trees fighting the flames.
Thankfully, a few days later we got some much needed rain to put out all the fires in the area.
There has only been one trip made to Goodwill since I last posted and unfortunately, it wasn't by me. My sweet hubby stopped by there on an outing with his parents and thought to bring me a few little surprise gifts.
So, how did he do?
Until next time . . .
ThriftyAnnabella