Linking up for these two parties this week.
Pink Saturday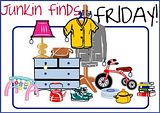 Thrifting hasn't gone quite as well as I would have wanted this week. I've been looking forward to a big storage sale that DH's cousin is hosting for a few weeks now. Unfortunately, I found out she's going to be hosting it in a small town about an hour away from our home. That's a little too far for me to travel for just one sale so I've decided to pass on it.
I did, however, make my first trip to Goodwill for the year. Along with three skirts, one of them being a Levi's denim skirt, I came home with these four beauties.
I didn't really look them over too good though, just put them in the cart and brought them home. However, when I got home and unwrapped them and took the $1.99 price tags off I noticed that they said on the bottom "Made Exclusively for Dollar Tree stores." Ugh, Goodwill did it to me again. I was a little frustrated that I had paid $1 more than what they originally cost brand new but since they're pretty I'll still enjoy them. I especially love the ones in the blue and purple dresses.
I don't know about anyone else but this is the second time I've had this happen to me. Once while at a flea market I bought two plates for $2 a piece to use in a wall hanging. I thought I had gotten a really good bargain, that is until I visited the Everything is $1 store and saw a huge stack of my plates selling for $1 a piece. Disappointment reigned that weekend.
On another note yesterday afternoon I got in my car and left to go get my kids from school. Upon getting down the driveway I noticed a huge mass of black smoke rising in the air from across the road. Since we live in the country we're pretty much surrounded by woods so I knew it probably wasn't someone's house. Apparently the fire in the woods got out of control fast. Before I made it down the road a little piece I was met by fire trucks coming from every direction. By the time I got the kids and tried to get back home all the highways were closed. We did manage to make it to our house and sat on the porch most of the afternoon watching fire trucks and cop cars flying up and down the highway. I wish I had had my camera with me to take a picture of the big mass of black smoke. I'm sure you could see it for miles. Unfortunately, last night all the smoke came down to ground level and we seriously thought we were going to have to leave our house and find somewhere to stay for the night. There was smoke so thick outside and it was coming in the house. So today I plan on trying to air the house out if the smoke lifts. This is what it looked like outside my house this morning - still smokey but not quite as thick as it was last night.
Until next time...
ThriftyAnnabella